January 17, 2014
Virtual Reality Experience
Virtual Reality is Creating Change in Business Practices
By Mark Sivy
The notion of "virtual reality" can be traced back to 1938 when Antonin Artaud, a French playwright, actor and director, used it in a book written about theater. Later, in the 1970s, Myron Krueger coined the term "artificial reality" in reference to the interaction between humans and computers. Historically, this concept of having a virtual experience within a computer-generated 3D simulated environment has been nothing more than an exercise in science fiction for the masses. Even though the virtual reality systems that would enable this would have been in development for decades, their price tags and technological requirements have been enormous. Then came the introduction of wearable virtual reality headsets the past couple of years.
Virtual Reality Options
The media forerunner in this has been the Oculus Rift, which is a consumer-targeted virtual reality head-mounted display that is expected to be released in final version near the end of 2014. It made headlines recently when it was announced that the parent company, Oculus VR, was purchased by Facebook in March 2014. The current developer kit version of the Rift is available for $350 US. Similar personal computer-connected systems are under development by other companies such as the Sony Morpheus, True Player Gear Totem, Avegant Glyph, GameFace Mark IV, and Durovis Dive, thus we can anticipate a flood of this very highly anticipated technology into the marketplace during the next couple of years. Presently these systems are primarily being designed for either immersive gaming or for movie entertainment, but other uses of the system are certainly possible and are being considered.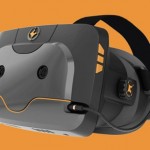 Market Example
For one market example, imagine the advantages that these VR options would have for education. The levels of engagement, interactivity, collaboration, presence and visualization that these devices will offer can certainly be leveraged to the advantage of learning. In a recent Wired article, Brian Shuster discussed the likelihood of using virtual world environments for educational purposes. Even the Oculus Rift creator, Palmer Luckey, envisions educational uses of his creation in an article in Gamespot. In anticipation of the educational uses of VR, East Carolina University in North Carolina had established the Virtual Reality and Education Laboratory in 1992 and the university currently offers a concentration in VR within their Education Master's degree program.
Our Abilities
Cosmic Surrounding Technology (CST) is at the forefront of developing alternative uses of these 3D display technologies. In terms of serious gaming, CST is exploring the application of game-based virtual reality for education and training purposes. Other uses that are being considered or developed include architectural rendering, product modeling, urban planning, and personal health. To read more about this and other CST solutions, see the interview article published in the Oman Observer.
Reflection Point: Virtual reality is a medium, a means by which humans can share ideas and experiences. ~ Alan B. Craig