November 30, 2021
10 Digital Solutions That Can Help Any Company/ Business Take Off
You will hardly come across any company, organization, or even local business that does not have a digital footprint. The digital revolution was already in full swing when the pandemic hit. The COVID-19 pandemic just pushed the need into hyperdrive. Before we dive in and start discussing the digital solutions your business needs, we need to clear the confusion between digital transformation and digital solutions.  As the name shows, in digital transformation, you need to change the complete work model and core functions of the organization.
The digital solution is not the same. It is the automation of tasks that are done by humans. This eliminates any chance of human error and miscalculations. This improves the business productivity manifold. According to research conducted by Forbes, it has been seen that if done right, the process of automation helps overcome any human error. As a result, the business processes run smoothly without any kickback.
So, if you are not looking to go for a complete digital transformation (which we don't recommend either if you are don't need it), this article is for you. Making use of technologies like immersive technology can help businesses unlock multiple opportunities. It is the magic key for marketers and they can boost the company's branding efforts.
Similar technologies help you make profits. The key is doing it right. For that, you need to understand your business needs. No two businesses are the same. Even if your competitors use a certain digital solution, you should not adopt it without doing proper research. What if your company does not need it? You will only end up losing money and resources. The 10 digital solutions mentioned below are important and you can find a couple that will help your company take off!
10 Digital Solutions That Can Help Any Company
1. Increase User Engagement with Immersive Technologies
Digital solutions are not only used internally. There are many external applications of digital solutions too. One of the best technologies to increase user engagement is the usage of immersive technologies. The use of engaging interaction, excellent visuals, and an impactful message is what makes a branding campaign successful. But, everyone knows this right? To do something different, companies should use immersive technologies to fully engage the consumer.
Most SMEs think that immersive technologies are only for the giants. This is not true. You can use them on whichever scale you want. For instance, Coca-Cola, Cadbury, Rekorderlig, and many others are using these to get their message across to potential customers. Coca-Cola is leading the market with its immersive technology campaign, Coca-Cola Future Room. Here, the viewers can explore the history of Coca-Cola with full imagery. Apart from Coca-Cola, other businesses are incorporating this technology with bus rides, fantasy worlds, modern and high-tech visuals and so much more. You can do something as extravagant as Coca-Cola (if you have the budget) or something as simple as a highly engaging brand message. It is up to you and your business requirements.
2. Cloud Storage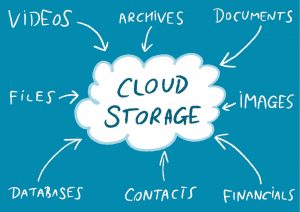 The foundation of your businesses nowadays is data. Data about business trends, customer buying patterns, customer demands, competitor analysis, internal SWOT (strength, weaknesses, opportunities, threats), etc is what drives your business forward. Initially, companies used to store whatever data they had manually. In the age of today, this is impossible. The world is your customer base. To store and use data efficiently, cloud computing is the digital solution you should go for.
Storing data on remote servers allows it to be secure, increases scalability, and improves overall information management. It makes data easily accessible too. With COVID-19, work from home has become the norm. The mobile workforce can access data from places like DropBox and OneDrive.
3. Cyber Security Options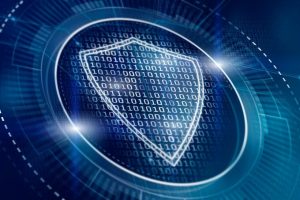 Want to go for digital solutions? Keep an eye out for cyber security options. It is a must-have digital solution for your business if you are planning to go online. No digital solution will benefit you if you end up losing sensitive data to a cyber attack. We think leaking data is the only cyber security threat your business faces. Even your video conferencing should be safe and secure. After all, you don't want your business secrets to be leaked outside, right? With teams working remotely, this has become significant. You can incorporate different strategies like encrypted VPNs, strong passwords; third-party authentication, and so forth, to ensure your digital footprint is safe.
4. Extended Reality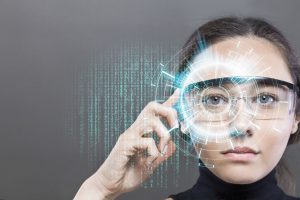 Extended Reality is the future Virtual Reality has been used in the gaming industry for quite some while now. It has now extended to other businesses and industries too. For instance, most organizations are using extended reality to train their staff for security and customer service. Even though it does not seem much, for organizations that deal with life-death situations, it can mean saving lives. Both VR and Augmented Reality allow participants to immerse themselves in real-life scenarios.
Imagine that employees don't have to make mistakes in the real world, instead, they can make mistakes in a virtual and controlled environment. Huge giants like ExxonMobil are incorporating VR to help train their employees in emergencies and see how they will react. Depending on the size of your business, you can do anything like or VR training to solve everyday problems. It depends on your business type and needs.
5. CRM (Customer Relationship Management) Solution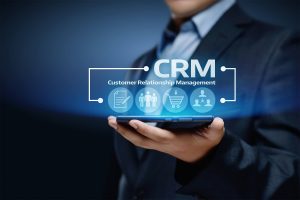 When you apply the relevant CRM system to your business, it gives you better customer retention, quicker responses, automation of the sales proves, better understanding and analysis of the data collected, shorter and smoother sales cycles, etc. All the departments are interlinked in the organization. Through CRM, you can get them all on the same page. They can work in harmony with each other. For remote employees, the best CRM systems include Hubspot, Salesforce, Freshsales, and Zoho. Now, your employees can maintain excellent customer standards wherever they are in the world.
6. Collaboration Tools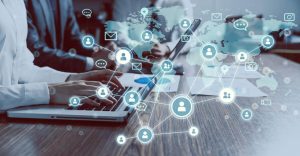 With the diminishing of geographical boundaries when it comes to employee selection, collaboration tools are an excellent way to overcome communication gaps. Teams can easily enter, manage, store and access data from anywhere in the world. Microsoft Teams, Google G Suite, Slack are all popular tools for this purpose.
7. Project Management Tools
The rise of work-from-home and remote teams has led to problems in assigning and maintaining workflow. At times, the only interaction managers have with their teams is on video conferences or audio calls. This is a big hindrance in doing work properly. For this problem, the digital solution is to go for Project Management Tools like Atlassian, Asana, Jira, and Slack. All these allow managers to be up to date about what is going on and help in assigning and managing different tasks.
8.Buffer
A very interesting social media digital marketing solution is Buffer. With the help of this, you can easily streamline all the content you share on all the social media platforms like Facebook, Twitter, Pinterest, and Instagram. You can schedule post sharing for any time you want and also see the progress on each post.
9.Web-based Payments
To make payments easier, go for web-based payments. This digital solution has allowed businesses to tap into customer segments that would not have been possible on cash payments. Different payment options allow people to select what they are comfortable with.
10. Enterprise Resource Planning (ERP)
As mentioned earlier, data is the driving force for any business. When all the data is in one place, you can easily automate functions likes accounting, sales, production, and even quoting. In a nutshell, it improves the entire business efficiency by improving your business processes through automation. There are multiple benefits which it offers like data analytics, better workflow streaming, and visibility, improved solutions, and cross-department collaboration.
Embrace the Journey
Incorporating digital solutions in your business is not an overnight job. The best way to do so is to involve and train your employees for this change. If done right, it is going to be an exciting and new opportunity to see your business in a new light. You can examine new possibilities, think of new products/services to launch and make use of technology like never before.
Digital solutions and digital transformation are a complete mindset. To get the best for your company the best thing is to consult professionals. These are dangerous waters to tread on. If done right, your business can go to heights you never imagined. But, if not done right, your business can suffer. So, it's time to consider how to infuse creativity into your business plan and see how you can make your business grow.
References
https://www.entrepreneur.com/article/357079
https://www.smestrategy.net/blog/10-ways-technology-can-enhance-your-business