Virtual Reality in the Medical Industry
Virtual Reality in the Medical Industry
Leading industries have taken a leap forward with the advancement of technology and are incorporating virtual environments for training, architecture design, marketing, education, diagnosis, rehab, and counseling. It's possible to place within these designs the abilities to provide training, knowledge enhancement and experience enrichment. Such was done with the virtual reality and virtual environments that are used in medical schools such as University of Southern California, Duke University, Stanford and other similar settings as a means of training, medical re-certification and healthcare quality assurance training.
A well-planned and well-developed environment consists of a commensurate design that provides informative and engaging experiences. The virtual environments used for simulations provide regulated, safe and flexible platforms for evaluation and training. Through simulated learning experiences, virtual reality can be used to train the next generation of doctors, paramedics, physiologists, emergency response units and other personnel.
With the appropriate virtual environment design ongoing trainee assessments can be conducted with accurate visualization of real-time data. For example, an emergency response team can conduct their training in a high-risk, time-critical environment that has been developed to replicate an emergency scenario. Based on the trainee's responses, trainers can adjust the training methodology to enhance the needed skills and knowledge. The trainer can log in the virtual environment with the trainee in a one-on-one session or can conduct group sessions.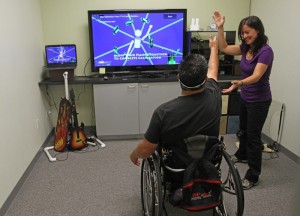 Virtual reality use in the healthcare industry is being heavily incorporated as a means of providing enhanced medical services and it is expanded its usability and availability due to the broad product development and advancement of technology. In addition, the growing implementation of information technology infrastructure in the healthcare industry is paving the way of associating Virtual reality in innovative medical technology in areas including pre-operative surgical planning, motor skills training, surgical simulation and physical rehabilitation.
The current and future market for commercialized virtual reality technologies are based on assortments of applications for areas such as surgery, including surgical navigation, augmented reality surgery, and robot-assisted surgery. Medical data visualization, as well as multi-modality image blending, advanced 3D/4D image restoration.
Virtual reality usability includes rehabilitation and therapy, by the means of blending treatments with immersive virtual reality systems for pain management, behavioral therapy, psychological therapy, physical rehabilitation, and motor skills training. In addition, virtual reality is used for education and training purposes, the use of virtual surgical simulators and simulators for medical patient procedure. It also involves the use of single and multi-user learning capabilities and environments.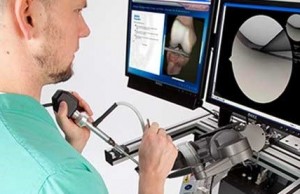 With the use of virtual reality it is possible to provide medical students and physicians with interactive training opportunities in a risk-free environment. Technology can also be used to transform data, such as a CT or MRI scan, from a flat image into a three-dimensional one, thus allowing surgeons and students to visualize and discuss complex surgical procedures.
Virtual reality technology can result in enhancing patient outcomes, reduced medical errors, improved omnipresent surgical technique, enhanced capabilities that allow physician to collaborate during diagnosis and improved psychological and motor rehabilitation.