March 08, 2014
ICT in Emerging Markets
The Role that ICT Plays in Emerging Markets
In developing countries, small and medium enterprises are experiencing challenges created by the globalization of production, a shift in market competitiveness and the existence of emerging markets. Because ICT is linked to a firm's ability to revolutionize how it introduces existing and new products, services or even business processes into these new marketplaces, it is important for organizations to innovate and remain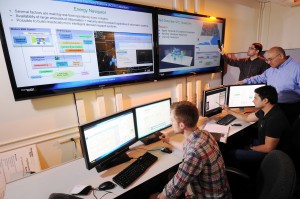 technologically savvy. It is estimated that by 2025, the earth will contain more than 25 trillion connected devices that can allow people to communicate. This creates a major opportunity for businesses to leverage digital ecosystems, thus it is important to have human resources with the skill-sets and supporting infrastructure that allows them to take advantage and be part of the international market. As enterprises adapt to newer technology, the demands on staff such as programmers, developers, designers, creative teams and managers' will shift. They will need to access information remotely, manage the projects using innovative online tools, carryout tasks and conduct meetings on the go, and maintain global connections. To be able to keep with the advancement of technology and the international market demands, companies need to provide training and professional development for their employees.
ICT advancement has taken emerging markets by storm and has motivated organizations and governments to empower citizens, end-users and clients by adopting and developing technology-based information, services, and communications. If done properly, the downstream experiences are memorable, rewarding and highly effective. Economically, ICT offers pathways that benefits everyone by providing jobs, business growth, global presence and competiveness. Socially, ICT advancements offer the opportunity to enrich society, improve human well-being, and strengthen nations in unconventional ways and in an environmentally friendly manner.
Reflection Point: Emerging markets' share of global market capitalization could overtake developed markets' share by 2030. ~Goldman Sachs.